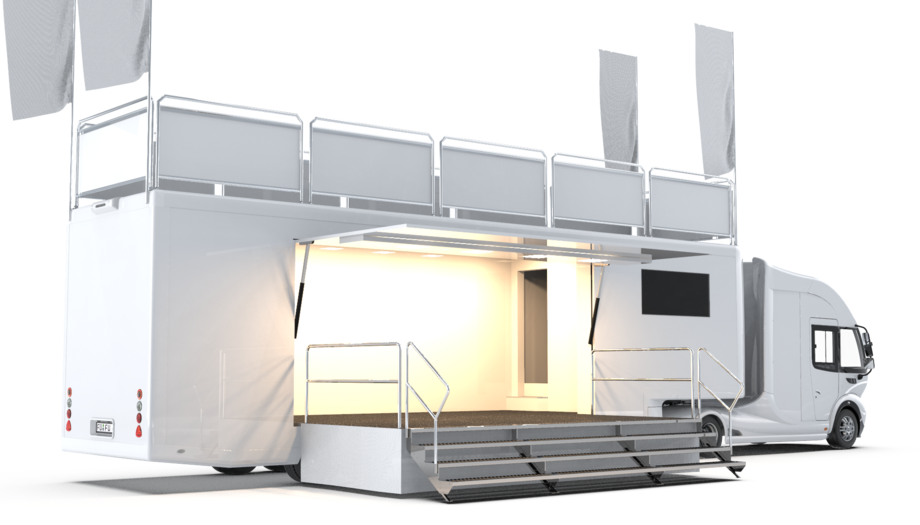 FUTURIA
Sales and promotional trailer with plenty of additional advertising space on the roof
Unilateral extension with additional rooftop gallery. Otherwise like the OE.
Operational at approx.
35 Min.
Effective area approx.
48 m2
FUTURIA description
The OE-rt type has all the same features as the OE, but offers an additional level on the semi-trailer's roof, which can be used as a terrace for events. A second – external – staircase increases the setup time by about 1.5 hours. The rooftop railing can be used as an additional generous advertising space with great long-distance effect. Tables, chairs and sunshades would upgrade the rooftop to a popular VIP zone.
Based on inteded use e.g.:
Promotion & Action
Product presentation
Consulting/Survey
Exhibition booth
Direct sales
Semi stage
Public sites
Equipment features
Rooftop terrace
Option: onboard generator ~kW: 9.1
Meeting or team room
Kitchen or refrigerator
Trailer tent at ground level
40-60" monitor/s, audio system
FUTURIA Dimensions
Renting
Cost security right from the start
Buying
An own show truck – outstanding advertising
Full-service leasing
Roadshow without high capital lock-up and personnel commitment
The FUTURIA Family

A suitable vehicle type for any purpose
With its FUTURIA, MOST offers an attractive model family that is tailored to the differing needs of marketing campaigns on wheels. Discover the diverse possibilities – and the FUTURIA semi-trailer that is the best match for your objectives. The various FUTURIA semi-trailers versions are all built in such a way that they can be set up and put into operation by just one person without much effort.