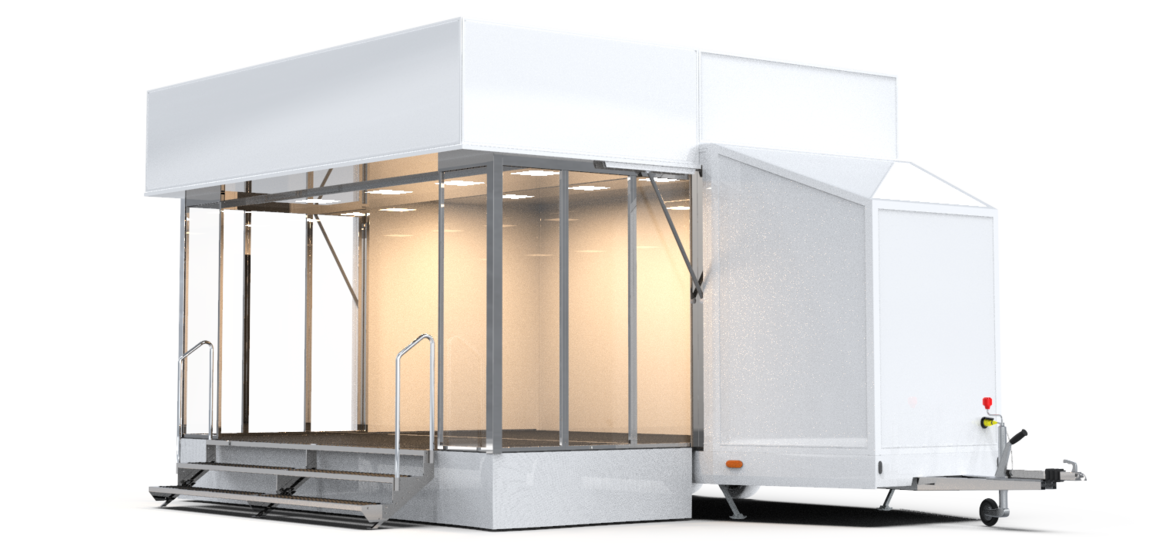 Professional exhibition and promotional stands-on-wheels

Individual cube design redefined for greater eye-catching effect
The CUBE model concept is captivatingly simple and flexible:
The car trailers of MOST's well-established series – spacious and featuring a distinctive design – are perfectly suited for direct sales, product demonstrations and promotional activities. Or even as a cookery studio. At a height of 360 cm, a width of 4.5 meters, and a length of 6.5 meter, the CUBE is a striking mobile stand. The car-trailer concept pays real dividends when it comes to multi-day events since you can drive the towing vehicle to the hotel or use it for running errands.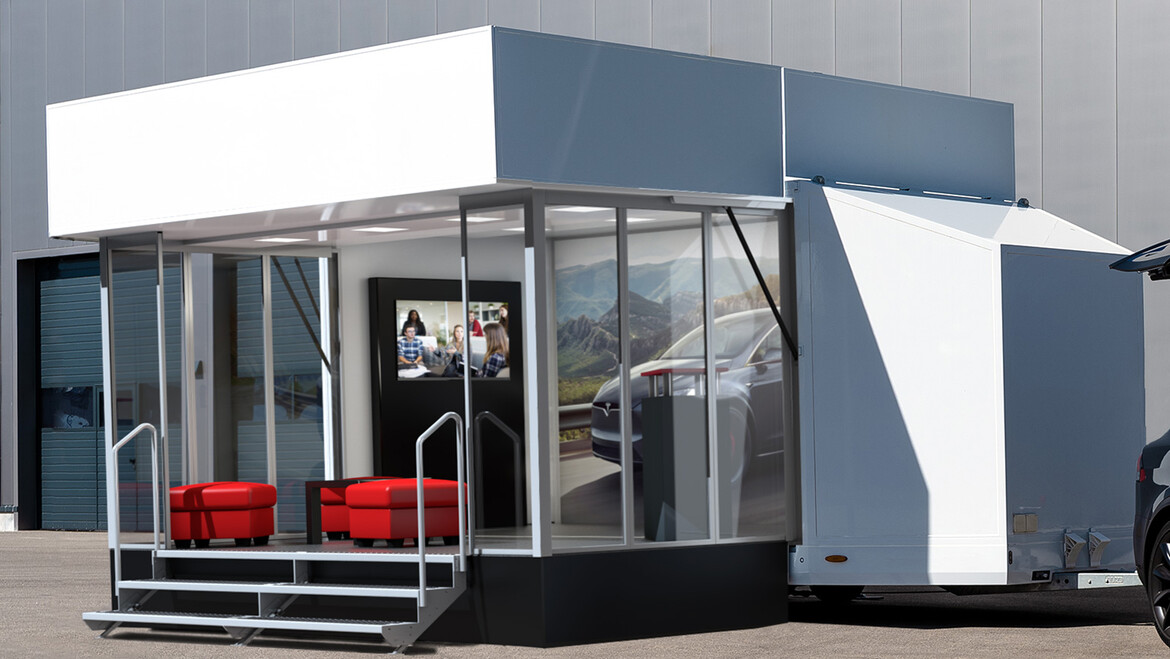 Characteristics


Made very inviting – for visitors to linger
The CUBE by MOST knows no psychological barriers. The trailer floor is low for all model types. Almost at ground level, a welcoming entrance across the entire width of the opening creates instant closeness to the products and services. Moreover, the end user can enjoy a sense of security and well-being beneath the roofed, weather-proofed cube enclosure. The CUBE.expo-GL, the premium model in this vehicle class, the entire promotional space can be partially- or fully-glazed for deployments during the cold season.
Payload


Front-runner in terms of payload
Between 800 and 1.500 kg can be installed or transported in a CUBE.OE or CUBE.expo without requiring a tractor unit with more than 2.700 kg in towing capacity. By comparison, the CUBE.eco, with its rounded GFRP design, has a payload of 700 kg. If necessary, however, it may weigh up to 1.000 kg and more.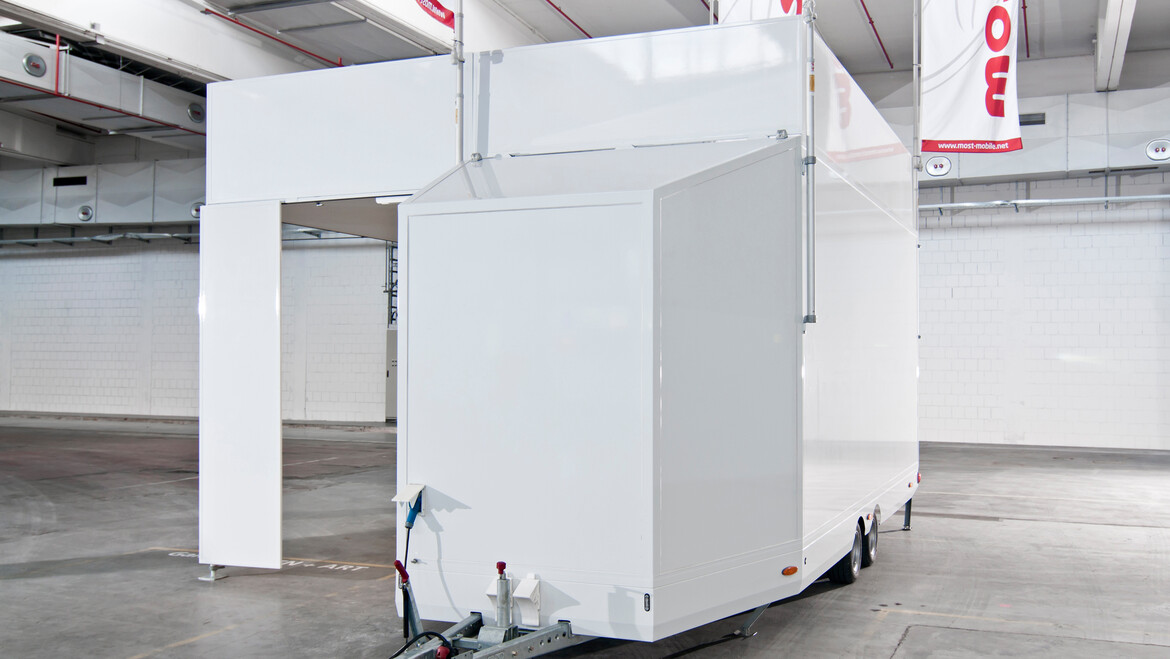 Construction type


Innovate car body design for true professionals
Except for the CUBE.eco, with its rounded corners, the CUBE's trailer body consists of a rigid aluminum honeycomb construction. Compared to other trailers, this makes the CUBE relatively light despite its remarkable size, and it's also beneficial in term of payload.
The fully-clad frameworks of the CUBE.OE and CUBE.expo create a very upscale look that easily lifts these sophisticated trailers from the mass of standard car trailers. The almost 5-meter-long marketing event area is complemented by a practical ancillary room that can be repurposed into a kitchen galley, storage space or changing room. The body boasts a total length of approx. 6.3 meters.
Equipment


Persuasive arguments for professional deployments
The available models will win you over with practical features that highly recommend the CUBE as a trade fair booth or information stall. These features will also be very helpful on-site at the deployment destination.
Cube roof screen and corner panels
Large roof screens can transform the CUBE.OE and CUBE.expo into a striking information booth in no time at all. The corner panels of the CUBE OE/GE, as well as the corner glazing of the CUBE.expo, not only provide additional advertising space; they also act as weather guards.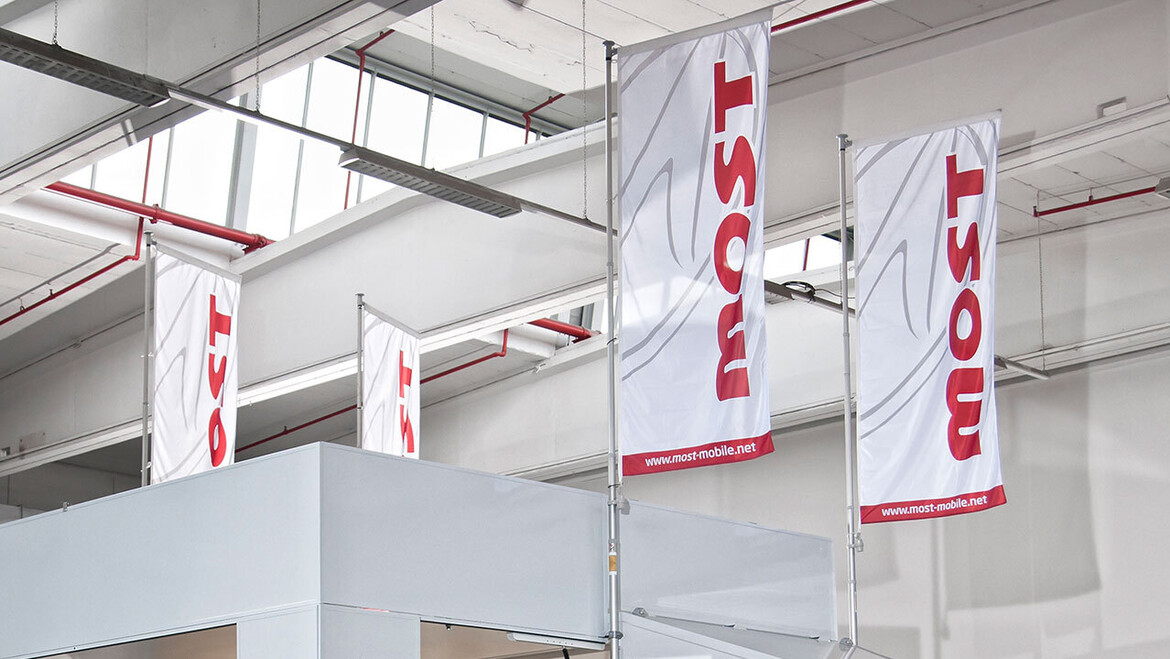 Flag masts
Five-meter high flag masts can easily be mounted at the corners of the box body. The flags themselves measure 260 x 100 cm.
Design your CUBE


From eye-catching branding to interior rendering
MOST will provide you with drawings and 3D visualizations to help you plan your CUBE's exterior and interior design.
On request, you can also obtain branding and interior designs from our design and furnishing experts. We are also available to provide support to your booth builder or your preferred agency for this work.
Drawings


Planning support for branding etc.
Bringing out your message to best effect
MOST will supply you with elaborate sets of drawings to facilitate the application of branding to your CUBE's exterior and interior surfaces (along with flags and miscellaneous surface areas). A plot plan showing the dimensioned surface area will help you determine which activities are to take place in the various trailer zones.
3D data


Your interior design as a 3D image
Experience your CUBE from all vantage points
For each MOST vehicle, we can make available CAD data for its interior rendering. It can be used to display – as an overall spatial experience from every angle – walls with integrated monitors, seating, counters and terminals etc. This gives you an opportunity to give co-decision makers and the sales department insights into the campaign before the roadshow gets underway.
The various CUBE models


Suitable for turbo campaigns or multi-day events
The CUBE is extraordinarily versatile. For quick product demonstrations or presentations, even several times a day, all you need to do is open one side and fold out the stairs. For all-day or multi-day roadshow campaigns additionally fold out the advertising screens, which add a huge amount of advertising space.
By the way: The CUBE is designed in such a way that is can be put into operation modus by one person without much effort.
Campaign examples


Each action requires individual performance
We offer you the right solution
Like the branding, with material labels and logos to the most striking full - size digital printing - extinction, the interior and equipment for each type of action and target group can be very individually designed. The Branding and Interior Specialists of most must offer you great ideas and solutions for individual design, equipment and equipment of your trucks and Trailers. Learn our experience based on a wide range of projects carried out!