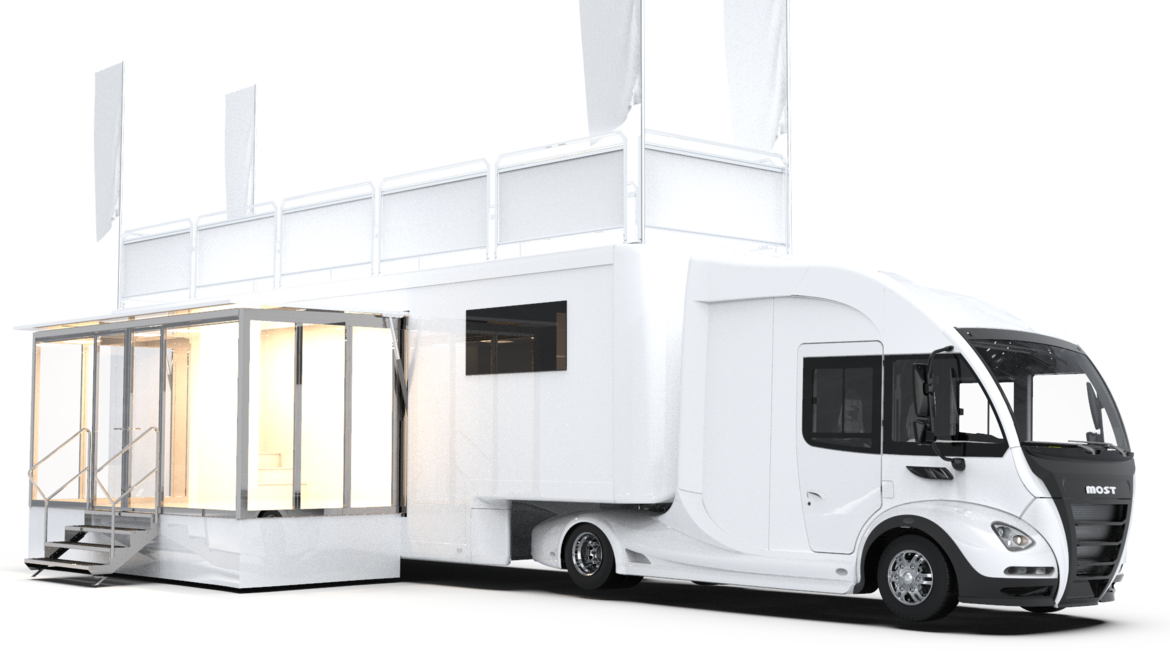 A Pioneer in Terms of Design and Innovation

Creating a one-of-a-kind experience is the key to a successful roadshow
What distinguishes pioneers and trendsetters is that they always stay one step ahead of their customer's needs – and their ability to shape the future. Are you ready to strike out toward untrodden ground? If so, the time is ripe for an encounter with a FUTURIA – the new truck dimension.
Characteristics


Made to attract attention
FUTURIA trucks stand out noticeably from the crowd. Their unique, streamlined look elicits curious stares and admiration wherever they go. Unmistakable eye-catchers – they guarantee absolute attention on the road, at the POS and also on-site with the customer.
The truck sides extend far down the body and the trailer rear offers a maximum of space for customized vehicle wrapping. Thanks to the uni – or bi-laterally – expandable trailers, there is plenty of floor space inside as well.
Size comparison


The art of showing "greatness" while staying light and flexible
Aerodynamic and light-weight materials are becoming more and more important for trucks now that emphasis has been shifted to the environment and the preservation of resources. As a light-weight semitrailer, the FUTURIA was specially-conceived with environmental responsibility in mind but the impression it gives is of a much larger 40-ton-sized truck. With a maximum of just 11.9 tons and a length of 15 meters, a FUTURIA semi-trailer is still highly maneuverable, a important feature for tight spaces in urban centers.
Construction type


Innovation on wheels cast in one piece
FUTURIA is a holistic, innovative trailer truck concept. Indeed, next to the show truck itself, the semi-trailer also sports outstanding features in terms of design, weight and function.
The aluminum vehicle frame consists of extruded sections – specially-developed for this construction type – that function as the main and cross beams. In variously executed forms and cross sections, and in conjunction with force-locking and supporting sandwich walls, this ensures utmost stability at the lowest possible trailer weight.
The elegantly rounded front section of the semi-trailer forms a unit with the truck cabin's side closure, thus facilitating deflection of the airstream."
Special features


Going to great lengths to satisfy a low inhibition threshold
Both the truck's and the trailer's relatively low axle loads (point load) result in a wider choice of exhibition space, which is critical for marketing campaigns in urban centers. It takes no more than three steps to access the generously-dimensioned interior of the FUTURIA semi-trailer! This significantly reduces the inhibition threshold of potential customers to venture inside.
Fittings and Equipment


Field-tested, high-end fittings and equipment
A FUTURIA offers a maximum of features and technology to conduct professional roadshows. The FUTURIAs in MOST's fleet of rental vehicles are all equipped with this equipment as standard.
Practice-oriented interior design
Cabinets in the main section as well as in the team- and meeting rooms help keep the interior clutter-free. Even the flag masts have a designated storage space in one of these cabinets, from where they can be easily accessed at any time. The brightly-lit meeting room accommodates 6 people.
Control and communication via iPad
Its cutting-edge operation is every bit as impressive as the FUTURIA trailer's futuristic design. Lighting, sound, air conditioner and, upon request, the entire hydraulic system and the onboard generator is operated via iPad. Operating hours can be retrieved online and customer services, for example, can be planned in a timely manner. Presentations, moreover, can be sent to screens and photos can be forwarded directly from the campaign to corporate headquarters.
Impressive standard features
high performance air conditioning system for cooling and heating (NE and GE)
adequate number of sockets located in various spots
high-quality, slip-resistant and hardwearing flooring
fully-hydraulic and automatic leveling of the semi-trailer
various 230/400V inlets for electricity supply over the local power grid
Fascinating Truck Design

Beautifully and uncompromisingly conceived – the FUTURIA principle
The FUTURIA truck is ahead of the times – its development took cues solely from the principles of lightweight construction, efficiency and striking optics. Our mobile world, after all, can only attract heightened attention through unmistakable design language. And exactly that is what distinguishes a FUTURIA.
Design


A Vision of uniqueness become a reality
The FUTURIA truck is ahead of the times – its development took cues solely from the principles of lightweight construction, efficiency and striking optics. Our mobile world, after all, can only attract heightened attention through unmistakable design language. And exactly that is what distinguishes a FUTURIA.
Limited Editions


Limited Truck Editions
FUTURIA is synonymous with extravagance and vibrant design. At MOST, we see "vibrancy" as the constant change that goes hand in hand with life and lets us evolve. The FUTURIA truck too is subject to constant change and evolution.
Custom solutions


FUTURIA sports+pa – a unique concept the world over
The Lifestyle Yacht on wheels
The FUTURIA sports+spa is the first show truck with a whirlpool. It is integrated on the almost 11-meter-long roof terrace made with boat decking. The luxurious trailer also features a sports car garage, a posh lounge that can accommodate 10 people and a spacious sleeping-berth. The truck too is generously outfitted with extras: A high-performance sound system, a large LED-TV and, in particular, fog systems with underfloor lighting are all good examples of how a FUTURIA truck can be customized.
FUTURIA executive - the business trailer


Working or welcoming guests – wherever you want.
The features, furnishings and floor plan of the FUTURIA "executive" are decided by you. You can, for example, opt for a separate meeting room or sleeping area with an ultra-quiet onboard generator, an air con system and heater, a water supply system, WC, kitchen/bar or office with a reception zone that includes multi-media technology. The FUTURIA truck can be used as a solo vehicle and guarantees additional mobility on-site.
Design your own FUTURIA

From distinctive branding to interior rendering
MOST provides customers with drawings and 3D renderings that let you design the exterior and interior of the vehicle you envisioned. Upon request, we can also provide you with branding designs or interior design plans. Alternatively, MOST can also support your booth builders or your preferred agency in carrying out this work.
Drawings


Advertising space and promotional areas for planning
Ensuring that your FUTURIA will look just like you envisioned it
Detailed sets of drawings greatly facilitate the application of branding and vehicle graphics on the external and internal surfaces alongside flags, tarpaulins and miscellaneous ad spaces. You can also plan in which vehicle zone you want to have presentations or where you want carry out the various activities.
3D Data


A 3D view of your interior design
Experience your FUTURIA from all lines of sight
CAD data is available for just about every MOST vehicle in preparation to interior design planning. The data can be used to display, for example, walls with integrated monitors, seating areas, counters and terminals as an overall spatial experience from every vantage point. This also helps your co-decision-makers and sales department staff to get an in-depth look at the campaign long before the roadshow actually gets underway.
The FUTURIA Family

A suitable vehicle type for any purpose
With its FUTURIA, MOST offers an attractive model family that is tailored to the differing needs of marketing campaigns on wheels. Discover the diverse possibilities – and the FUTURIA semi-trailer that is the best match for your objectives. The various FUTURIA semi-trailers versions are all built in such a way that they can be set up and put into operation by just one person without much effort.