Our calling is unique mobility

The center for mobile sales promotion and marketing campaigns
As roadshow experts, we have over 30 years of experience in planning and executing roadshows. This goes hand in hand with a broad knowledge base on how vehicles should be conceived and fitted out for the intended purpose.
Company Headquarters


Centrally-located in Europe and the center of mobile marketing
MOST headquarters and sites across the globe
MOST's European headquarters in Germany has a lot to offer on 11.000 m2.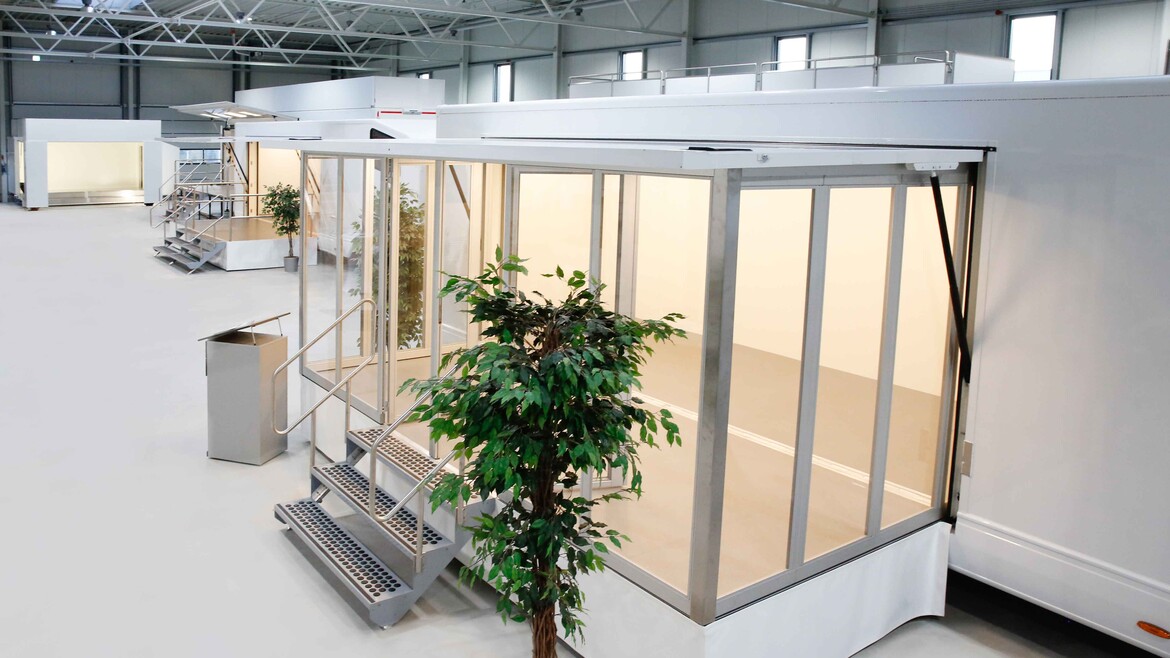 Our complete range of vehicles is on display at our indoor showroom where you are sure to find a suitable choice for your campaign – whether to rent or buy or lease. MOST's diverse fleet includes everything from small guerilla marketing vehicles to multiple-expanding hospitality trailers.
Not only do the MOST premises offer enough space for kick-off-events – even roll-outs can be celebrated here. We even have a water zone that is used during the warm months of the year. It features an extensive footbridge network – and Wlan of course – and is a popular meeting and entertaining spot for marketing and creative teams from all over the world. Marketing professionals, after all, love open spaces and inspiring environments to gear up into peak form.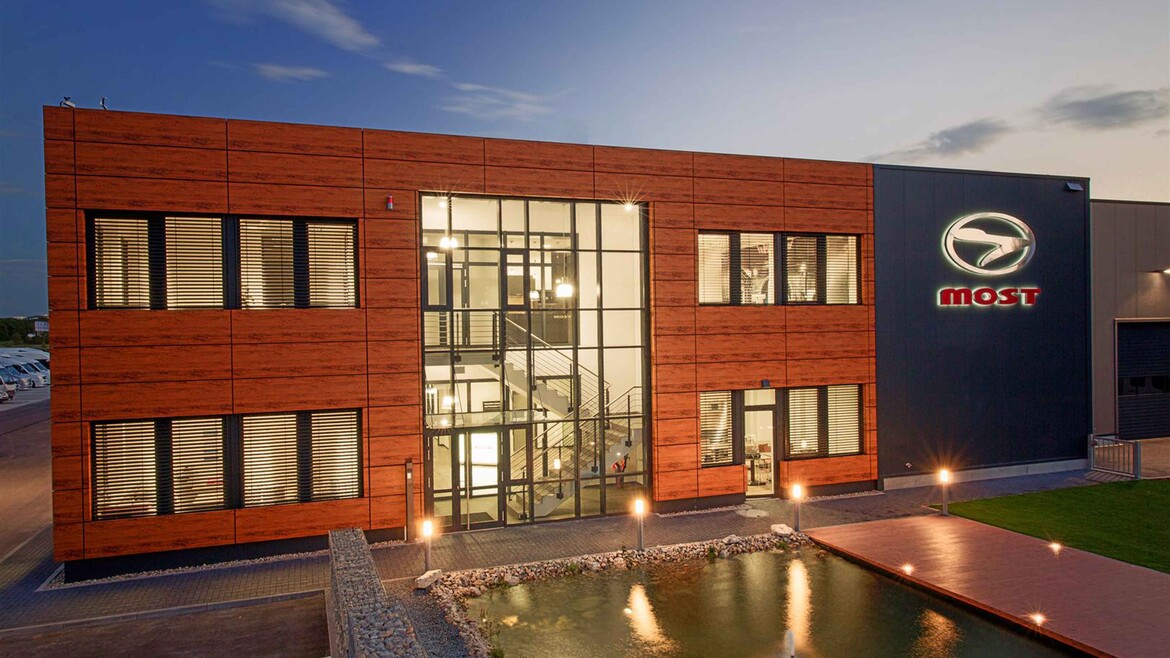 From spacious meeting rooms equipped with professional multimedia presentation technology to sampling rooms, agencies and businesses will find ideal conditions here to work out the details for their vehicle's exterior and interior design along with our designers, constructors and vehicle fitting and furnishing experts.
MOST runs branch offices and has local points of contact in various parts of the world to enhance your local success and prevent your cross-border roadshow from hitting any snags.
Stefan Schäfer is an expert in sales and marketing who sets great store by integrated marketing. Having held positions at NEC Computer, Lufthansa Systems and as marketing manager at Microsoft, he brings sound experience and expertise from leading enterprises. This enables him to quickly and comprehensively grasp challenges and to develop customized solutions. From his stint as managing partner of the MSM.DIGITAL agency group, he also comes with the necessary expertise when it comes to successfully combining off-line and online elements for road shows.
Stefan Schäfer puts a lot of emphasis on staging roadshows as live communication and having them perfectly integrated in the marketing mix. From a successful B2B roadshow to a mobile seminar room, the success story of integrated marketing can be carried into the future seamlessly – even with an expanded digital reality. And it can have a huge impact! Schäfer's professional experience gives him first-hand knowledge of what customers need.
ʹThe sooner MOST's roadshow experts can become involved and share their experience, the more they can contribute to the success of a customer's project.ʹ
Günter Hofbauer laid the foundation for today's company in 1989. He evolved the company from a one-man-show into Europe's leading supplier of vehicles and spatial units for mobile training measures, product presentations and promotional campaigns. For Hofbauer, the on-going development of the model palette is paramount, after all, innovation, creative ideas and an appealing exterior design are MOST's strong points.
The aerodynamic FUTURIA truck, whose design and development was signed off by Günter Hofbauer, marks a very special milestone.
"In Hofbauer's own words: ʹThe world is full of the commonplace. To stand out from the masses of vehicles available nowadays it takes some special, unique features – and that's the standard we aspire to. Indeed, the vehicles and mobile exhibition stands offered by MOST are eye-catching brand ambassador; they are sure to draw a maximum of attention and help facilitate the forging of many contacts for the companies in question.ʹ"
Hofbauer plans to let his passion guide him in the future as he conceives striking showtrucks, information mobiles and mobile exhibition stand systems that are bound to delight.
Philosophy


Leading through innovation and service
MOST is a leading manufacturer and lessor of specialized vehicles for mobile promotion and training campaigns, pop-up stores, events and information campaigns in Europe.
Vehicle quality and range
Number of vehicles built per year
Size of vehicle fleet and low vehicle age
New business customer and orders per year
Innovative strength as well as financial strength
Assuming a pioneering role is an appealing commitment to keep developing our products along with delivering superior performance and quality in everything that we produce and do.
MOST not only sets high standards in terms of durable and reliable construction and overall optical appeal. We also set high standards when it comes to functionality and day-to-day handling. We take pride in MOST special vehicle because they stand out from the crowd and require only a minimum of time and staff expenditure to set up on site. As a rule, we bank on customized and comprehensive solutions for our roadshow services and support for truck owners. Comprehensive consultative services, first-rate implementation competence, honesty, reliability as well as transparent budgeting and invoicing are the basis for all of our collaborations – the best foundation for your success.
Yesterday to today


The most interesting moments happen just when you're least expecting them.
1988: Founding as a chauffeur service
Rather by coincidence, a passion for unusual, high-capacity vehicles laid the foundation for our company history in 1988. Our boss was interested in buying an old Corvette Stingray during a visit to the US at that time but was unable to find the right one. Absolutely determined to bring back some kind of car, he then acquired one of those chauffeur-driven limousines boasting a TV, video recorder, bar and a glass partition to the driver.
This stretched limo was hired out for weddings and later even the famed Billy Idol was spotted riding in it. Big concert organizers, TV stations and record labels began to notice us. Further luxury limousines in lengths of up to 8-meters were purchased and accompanied such world-famous music stars as Frank Sinatra, Madonna, Whitney Houston, Zuccero, Rod Stewart on their tours. Exotic vehicles, including AC Cobra, Excalibur, Rolls-Royce, Ferrari and pick-up trucks, were added to the extraordinary fleet during this same period.
1990: From Rolls-Royce to promotional trucks
In 1990, the first showtrucks were put into service. More and more, the company specialized in collaborations with advertising and event agencies, as well as with brand companies. Exhibition and stage trucks, as well as promotion vehicles, became the main focus. Along the way, the company set some extraordinary benchmarks. MOST had, for example, the largest US truck in Germany at this time. With an impressive tank volume of 4516 liters, it was able to travel non-stop to Moscow and back on a tour. MOST also manufactured inexpensive truck miniatures in-house for roadshow customers; later on, hundreds of thousands of these models could subsequently be found in beer crates as part of a promotional campaign. The years 2004 and 2006 saw the first exports of showtrucks to Dubai and Russia, and the company relocated to facilities north of the Nuremberg-Fürth-Erlangen triangle.
2009: MOST presents an own design truck
MOST decides to develop an own showtruck line – with a striking design and in lightweight construction – under the name ʹFUTURIAʹ. In 2010, the first prototype for the classy tractor trailer ʹsports+spa – Yacht on Wheelsʹ is presented to the press. Beginning 2012, upon issuance of a homologation certificate, the first units finally enter small-scale series production and can be handed over to customers.
2014: MOST's Europe HQ and the dedication of Futuriastrasse
The new company headquarters in Fürth is officially inaugurated and the street is named after the first truck – the ʹFUTURIAʹ – that was built in Fürth. The ultra modern building complex and the outdoor facilities, which feature a spacious water zone alongside a walkway, stands out markedly compared to other commercial buildings. After all, we want our guests to experience a sense of well-being in every respect when they come to see us.
2018: Outlook
Today, MOST Roadshow Experts is one of Europe's leading manufacturers and lessors of showtrucks and vehicles for promotion, information campaigns and events. We attach great importance on the first-rate condition of our vehicles and on their uniqueness, as well as on optimal consulting and support services when executing mobile marketing and training measures. For this we can draw on some 30 years of experience. And, by the way, after exactly 30 years our boss was finally able to take possession of a vintage Corvette: A wonderful coincidence that resonates with a fabulous anniversary and the course that we set for MOST's future.