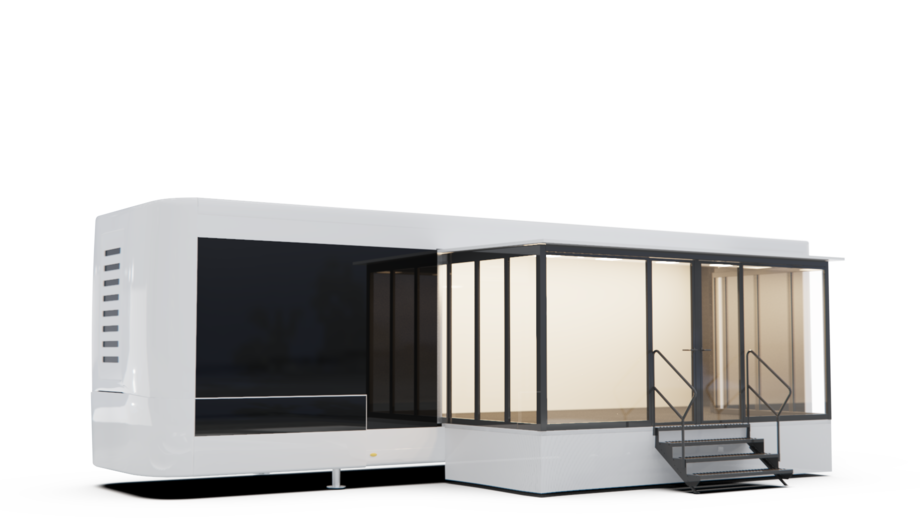 SPACE 2
Available glazed or with open sides – depending on the requirements and occasion
The pop-up information stand/showroom can be set up at a different location day for day. Depending on the type of campaign, it can have glazed or open sides.
Operational at approx.
50 Min.
Effective area approx.
34 m2
SPACE 2 description
Its front end gives this air-conditioned pop-up stand on-wheels a very classy look and also offers a small, separate meeting or storage room. With a modest width of 5 meters, the SPACE-2.GE fits nicely in many locations. Exhibits of up to 270 cm height, for example, can be securely mounted on the main wall of the SPACE-2.GE. Depending on the version – either open or closed-in with glazing – the SPACE-2.GE can be set up in 40-60 minutes.
Based on inteded use e.g.:
Promotion & Action
Product presentation
Consulting/Survey
Training/Speech
Exhibition booth
Hospitality/Lounge
Public sites
Equipment features
Rooftop terrace
Option: onboard generator ~kW: 9.1
Glazed front or side entrance
Meeting or team room
Air-conditioning
Heating
Kitchen or refrigerator
40-60" monitor/s, audio system
SPACE 2 Dimensions
Renting
Cost security right from the start
Buying
An own show truck – outstanding advertising
Full-service leasing
Roadshow without high capital lock-up and personnel commitment