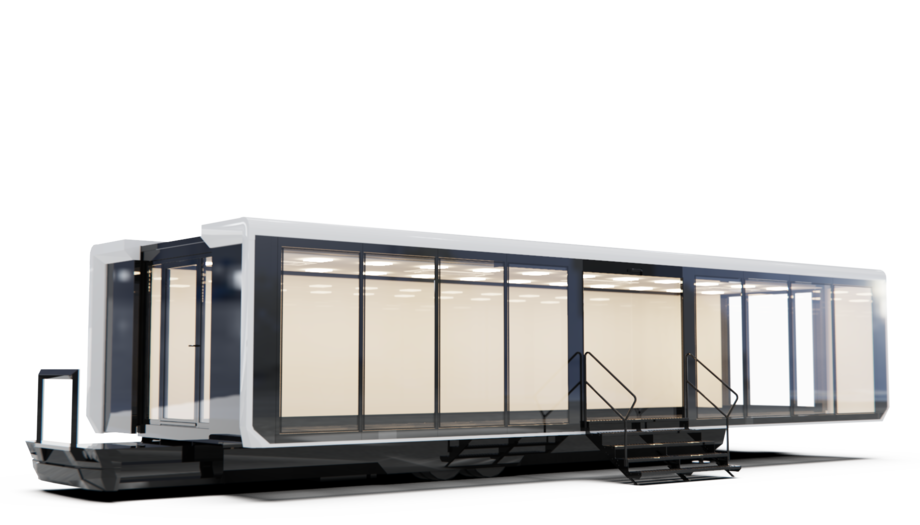 SPACE 3
Step inside and experience a sense of well-being. The new world of mobile showrooms.
Awesome conception of space for mobile training or as a fair or exhibition stand-on-wheels
Operational at approx.
30 Min.
Effective area approx.
65 m2
SPACE 3 description
The new SPACE 3.GE – brightly-lit, wide and long. With its large window facades and its straight layout, it looks like an independent building and yet it is only a semi-trailer with a very low interior floor. This gives the SPACE 3 a pleasant and generous inner height. Exponents can be permanently mounted across the middle section of its entire length and effectively put into the spotlight via the central aisle's wide ceiling.
Based on inteded use e.g.:
Product presentation
Consulting/Survey
Training/Speech
Exhibition booth
Direct sales
Hospitality/Lounge
Equipment features
Glazed front or side entrance
Meeting or team room
Air-conditioning
Heating
Kitchen or refrigerator
40-60" monitor/s, audio system
SPACE 3 Dimensions
Renting
Cost security right from the start
Buying
An own show truck – outstanding advertising
Full-service leasing
Roadshow without high capital lock-up and personnel commitment