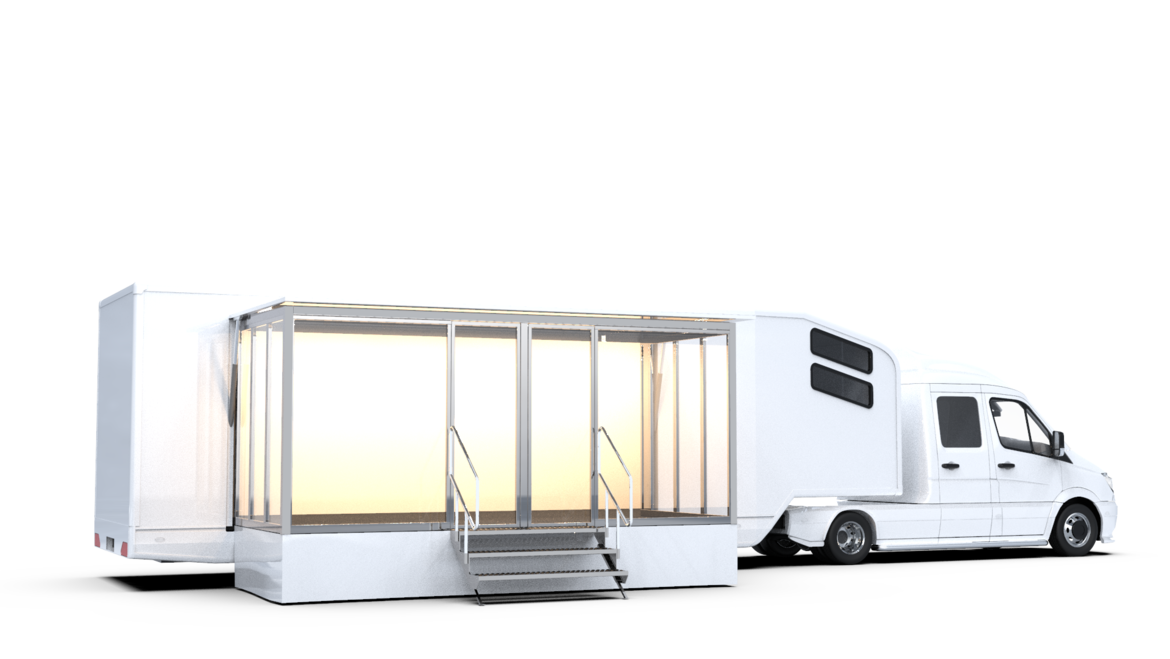 Discover the world of the PROMOSTAR

Frontrunner in the "special truck" class
Sleek and agile, this specially-conceived semi-trailer is ideal for campaigns in public places or unfamiliar spots at your customer's premises. The PROMOSTAR family of vehicles makes possible a vast spectrum of customized event marketing for target group audiences. Feature options include a side opening, glazed panels or a stage for promotional activities. The trailers can be used in pairs or even as a four-way combination to multiply the available floor space.
Features


Lighter and more maneuverable than its bigger brothers
The PROMOSTAR captivates with outstanding features that render mobility more efficient: Easy and quick set up and dismantling by the driver, more than 2 tons of payload for exhibits and furnishings; and a professional truck look with 5 axles and up 32 m2 of usable space. The PROMOSTAR lets you carry out mobile trade fair and promotional campaigns with the best possible combination of cost and efficiency.
Construction type

The PROMOSTAR leaves virtually nothing to be desired
PROMOSTAR trucks by MOST have unmistakable style. The tractor unit, whose double cabin features a berth, captivates with tone-on-tone aerodynamic fairing and stainless steel running boards. A chrome non-brand radiator grill (option) makes the PROMOSTAR brand-neutral.
The streamlined tractor-trailer with its distinctive look and thermally-insulated superstructure features a special, lightweight aluminum frame conceived for marketing campaigns at public spots. Its air-sprung axles go easy on delicate exhibits and also feature an EBS brake system. But the lightweight PROMOSTAR also wins customers over with its particular construction type and technology that evolved over more than two decades of roadshow experience. It lives up to all the challenges that go hand in hand with any type for mobile promotional campaign and presentation activity.
Special features


A leading edge and comfort in every respect
The truck's and the trailer's relatively low axle loads offer a much greater choice of possible spaces for installations. This is particularly beneficial when it comes to city center campaigns where weight restrictions often apply.
Only two steps need to be negotiated to reach the spacious interior of the PROMOSTAR semi-trailer! A low floor level of approx. 60 cm greatly reduces the psychological barrier that might otherwise prevent a potential customer from entering.
By the way: The entire trailer floor is level and without wheel housings. This gives you free choice when deciding where to set up your exhibits.
Features

Peerless in professional deployments
The PROMOSTAR stands out with a rich array of features that is second to none. High-grade components and equipment that has been tried and tested over many years elevates the PROMOSTAR to a highly-professional and ultra-flexible platform for encounters with potential customers.
Impressive standard features
adequate number of sockets located in various spots
high-quality, slip-resistant and hardwearing flooring
fully-hydraulic and automatic leveling of the semi-trailer
various 230/400V inlets for electricity supply over the local power grid
Equipment options that leave nothing to be desired
Many sensible extras are available to equip your PROMOSTAR. These extras include, for example the following:
wheelchair and loading ramp
Inclement weather packages to expand the available floor surface
kitchen galley, coffee machine, refrigerator
additional spotlights for interior use
rear-view camera, alarm system
trailer tent to extend the usable area to an additional 70 to 100 m2
The PROMOSTAR Family

A suitable vehicle type for any occasion
Get to know the attractive PROMOSTAR vehicle Family, which is tailored to the differing needs of diverse roadshows. Discover the possibilities that various PROMOSTAR semi-trailer versions make available as you plan your campaign.
All PROMOSTAR semi-trailer versions are built in such a way that they can be put into operation by just one person in a short amount of time without much effort.