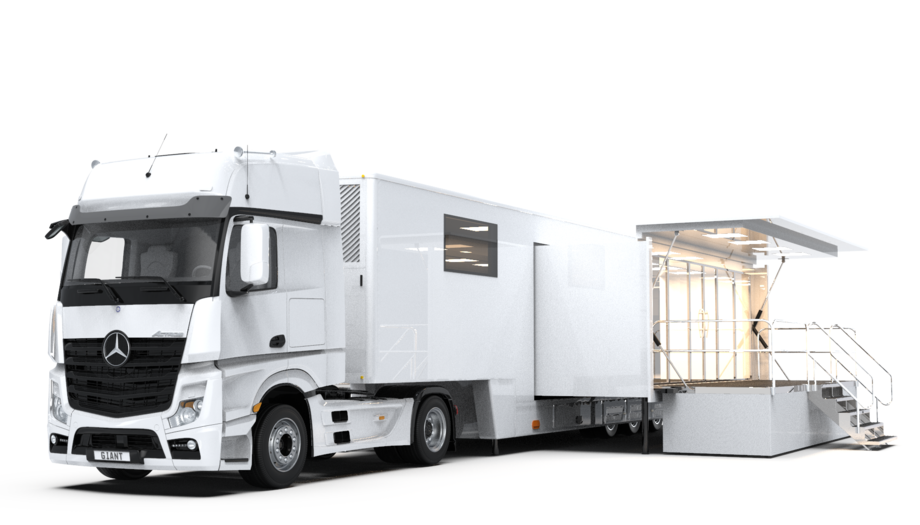 GIANT 4.2
Bright and offering a full side view to the interior, it also has a veranda at the entrance.
Very spacious main section to use as a fully-glazed showroom. Additional room level can be partitioned off.
Operational at approx.
45 Min.
Effective area approx.
65 m2
GIANT 4.2 description
The 4.2-GE/OE type semi trailer disposes of significantly more floor space than its companion vehicle, the 5.2-GE. Everything unfolds on one large level and, if desired, in a studio area that can be partitioned off. Apart from the main section (with climate-control system), the GIANT4.2-GE/OE, which is well-insulated for all climatic zones, also has a large veranda that can be used as a stage for event marketing purposes. The trailer stands out too for its overall elegant look that features – depending on the required payload – either two or three axles. When ready-for-action mode, the trailer – including the stairs – has a width of about. 9.5 meters.
Based on inteded use e.g.:
Promotion & Action
Product presentation
Consulting/Survey
Training/Speech
Exhibition booth
Hospitality/Lounge
Equipment features
Onboard generator ~kW: 25
Glazed front or side entrance
Meeting or team room
Air-conditioning
Heating
Kitchen or refrigerator
40-60" monitor/s, audio system
GIANT 4.2 Dimensions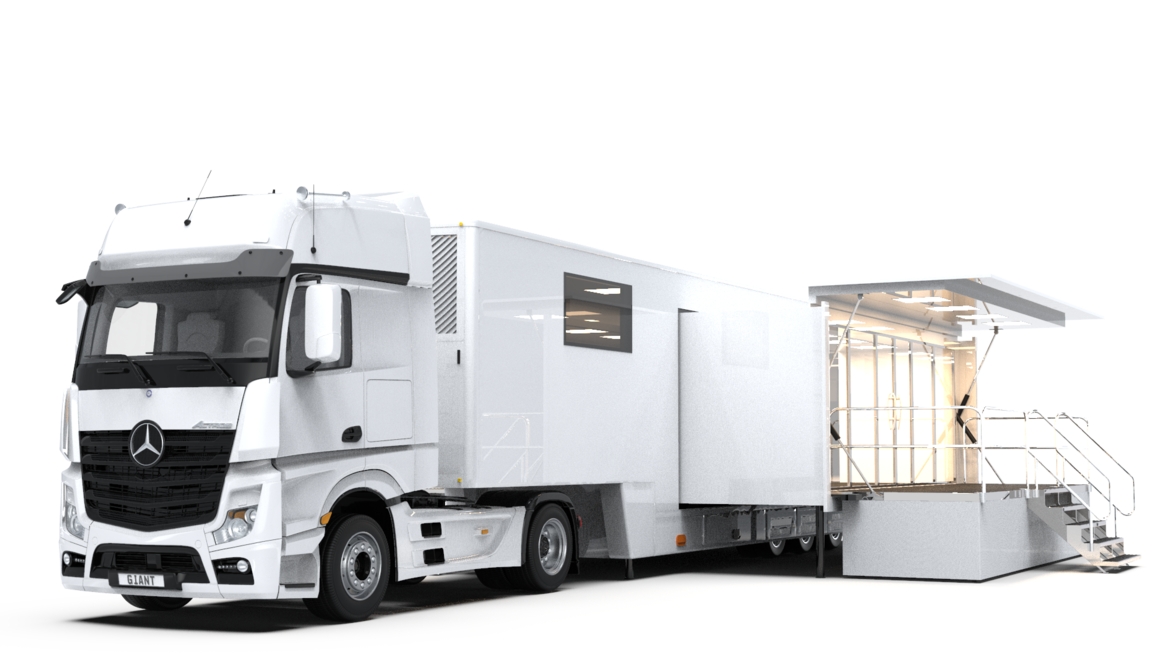 Renting
Cost security right from the start
Buying
An own show truck – outstanding advertising
Full-service leasing
Roadshow without high capital lock-up and personnel commitment
The GIANT family

The perfect type of trailer for every purpose
With the GIANT, MOST offers an attractive array of models and construction versions tailored to the various requirements of mobile promotional campaigns. Discover the many possibilities; discover the GIANT semi-trailer that's the perfect match for your mission. All GIANT semi-trailer versions are built in such a way that they can be put into operation by just one person without much effort.