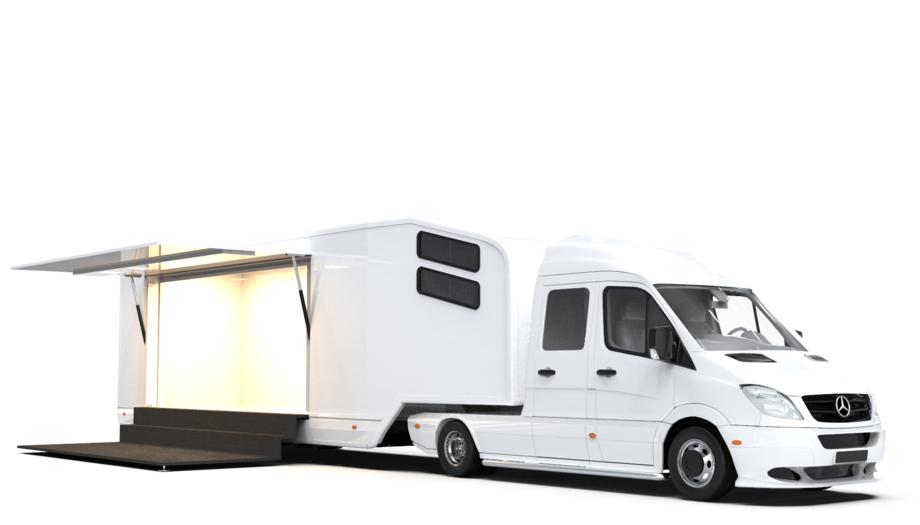 PROMOSTAR
Seeing products in passing and getting a chance to touch them
Allows a practically ground-level extension of the event area; particularly suitable for direct sales.
Operational at approx.
20 Min.
Effective area approx.
32 m2
PROMOSTAR description
Unlike its PROMOSTAR brothers, the FE type features two levels in the main section. The lower level is ideal for displaying products within easy reach of customers. The elevated level can be used to prominently display products or exhibits. Presentations can also take place from the upper level. The high interior wall offers many additional options for presentations and sales.
Based on inteded use e.g.:
Promotion & Action
Product presentation
Exhibition booth
Direct sales
Public sites
Equipment features
Option: onboard generator ~kW: 9.1
Kitchen or refrigerator
Trailer tent at ground level
40-60" monitor/s, audio system
PROMOSTAR Dimensions
Renting
Cost security right from the start
Buying
An own show truck – outstanding advertising
Full-service leasing
Roadshow without high capital lock-up and personnel commitment
The PROMOSTAR Family

A suitable vehicle type for any occasion
Get to know the attractive PROMOSTAR vehicle Family, which is tailored to the differing needs of diverse roadshows. Discover the possibilities that various PROMOSTAR semi-trailer versions make available as you plan your campaign.
All PROMOSTAR semi-trailer versions are built in such a way that they can be put into operation by just one person in a short amount of time without much effort.