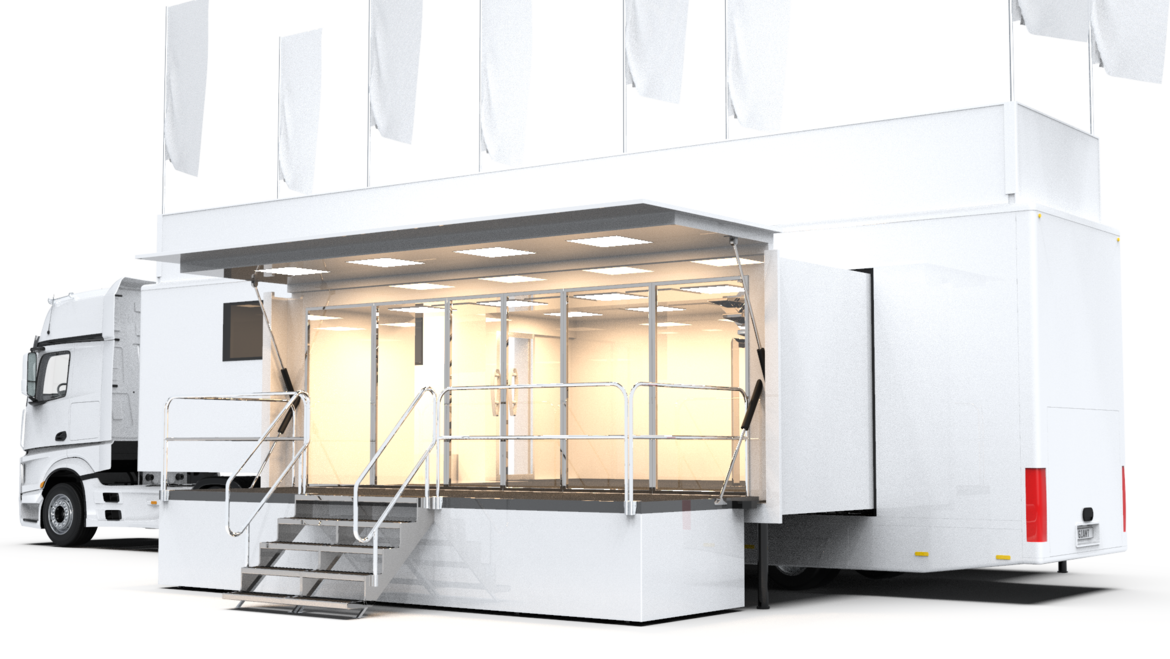 The premier class in the mobile show and event world

Impressively sized and extraordinarily versatile
Up to 6.2-meters in height and 10-meters wide, the GIANT is the ultimate flagship when it comes to mobile marketing and information campaigns. Thanks to its very solid construction, even heavy exhibits can be transported. Slide-out room modules allow the products and services to be generously displayed.
Features


Imposing size and classy look
Semi-trailers of the GIANT family have nothing in common – in terms of their construction type – with transport sector semi-trailers. GIANT trailers are very different, very special constructions that were built for encounters with people. A variety of configuration options such as terraces, extra compartments and an autonomous energy and water supply are available for the GIANT. By the way: The GIANT can be towed by tractor units manufactured by any of the global truck brands.
Construction type


Highest quality and operating reliability
The vast majority of semi-trailer flagships in the promotional and informational presentation sector are based on the construction type pioneered by the GIANT! For some 30 years now, the GIANT has been proving itself in operation and on the road. It is in a continual process of evolution.
What distinguishes an efficiently-run roadshow is a vehicle that can be put into operation on-site in a minimum of time and with a minimum of personnel. Only the truck manager is required to set up the GIANT! Of course, smooth tour operation also depends on technical reliability – and here the GIANT has proven itself in thousands of field deployments.
Functionality


Spatial worlds are created at the push of a button
Sophisticated technology is necessary to enable large marketing spaces to result in a short space of time – both in and on a vehicle. In every respect, the GIANT does justice to these expectations. It levels itself automatically and the slide-outs are activated by pushbutton.
Special features


Particularly inviting marketing space
In spite of the extensive technology required for the slide-out room extensions, the entire event space of only about 100 cm is easy to reach and uninterrupted by wheel housings. This is particularly important for your customers; the fewer the steps that need to be negotiated to reach the main level, the more inviting the vehicle appears.
Independence in the world's most important spots
With an autonomous electricity and water supply, the GIANT can be set up on any suitable spot and operated independently of local water and electricity provision. This guarantees a higher degree of flexibility when it comes to location planning.
Equipment

Going the whole hog.
High-quality vehicle equipment and everything that goes with it is what makes a roadshow easy and successful. Prior to the beginning of every campaign, the GIANT is fitted out with all the necessary campaign-appropriate equipment so you can professionally conduct your roadshow. The GIANT model types that belong to MOST's rental vehicle fleet come with the required equipment as standard.
Wide range of standard equipment
high-performance climate control system for heating/cooling
integrated super-silent onboard generator providing up to 25 kW
adequate number of sockets at various spots
high-quality, hardwearing slip-resistant flooring
fully-hydraulic and automatic leveling of the semi-trailer
masts with booms for visible flags at all times
Roof terrace


Ingenious far-distance effect with a view
Depending on its construction type, the GIANT features terrace spaces that have been approved for structural loading. These spaces can be roofed if desired, which would also result in a noticeable increase of advertising space that can't be overlooked. The railing increases the available advertising space by almost five meters in height. While the vehicle is enroute, the guard rails are safely folded onto the roof.
The GIANT family

The perfect type of trailer for every purpose
With the GIANT, MOST offers an attractive array of models and construction versions tailored to the various requirements of mobile promotional campaigns. Discover the many possibilities; discover the GIANT semi-trailer that's the perfect match for your mission. All GIANT semi-trailer versions are built in such a way that they can be put into operation by just one person without much effort.